Hi y'all!

I'm trying to collect all Beckham slash in one place and this is the humble beginnings.

If you have any good ideas about layout, pictures, coding or anything you can think of, please let me know.

If you know of any writers who don't want me linking to their stories please tell me. I don't want to step on any toes :)

::If you for some strange reason do not like same-sex romance fiction, please, read no further::

Thank you!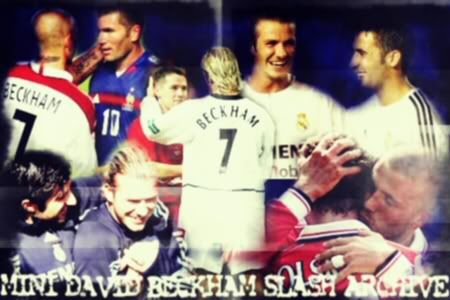 ::Beckham Slash::



*Beckham/Beckham* Beckham/Figo* Beckham/Gerrard* Beckham/Harte * Beckham/Keane * Beckham/Lineker* Beckham/Ljungberg * Beckham/Neville.G * Beckham/Owen * Beckham/Ruud Van Nistelrooy * Beckham/Smith * Beckham/Solskjaer * Beckham/Totti * Beckham/Zidane * Alternative Univers * Crossover * Multi-parings * Archives and Fan-sites *

Note. If you want to read the stories labeled "Friends locked" please contact the Author. If you are not on the Author's Live journal friend-list you will not be able to read the stories.


::Latest update::

22.Nov:

Elegantly wasted by
yehnica Crossover Beckham/Sean Bean

Lecciones Españolas by
redfireborn and
rwrockdj Beckham/Mikey

MEANBOYS Part 1. 2. 3. by
inspireddreams Raul/Mori/Guti/Becks/Mikey ::WIP::

Love In Exile Part 1. 2. 3. 4. by
we_love_smudger Beckham/Neville (plus others) AU ::WIP::

Stay With Me. by
we_love_smudger Beckham/Neville

Another Gary, Another David. by
we_love_smudger Beckham/Neville

22.Oct.;

I Need You.. by
we_love_smudger (Beckham/Neville)

Daddy Kiss It Better. by
we_love_smudger (Beckham/Neville)

18 sept,:

Anytime Part: 2. 3. by
we_love_smudger ::WIP::

16 sept.:

f/stop by
milochka

What The Papers Say by
we_love_smudger

Some Kind of Phase by
we_love_smudger

Victims of Geography by
we_love_smudger

Blame it on the weather. by
redfireborn (Friends locked)

Break Me by
redfireborn

Least You Can Do by
redfireborn


*****************************

Beckham/Beckham (Me, Myself and I)

f/stop by
milochka ::NEW::


Beckham/Figo (aka Figham)

Mend the Broken Heart Part: 2. 3. 4. 5. by Shay</a>


Beckham/Gerrard

Colouring In by Rosemary

Dreaming of You by
we_love_smudger ::NEW::


Beckham/Harte

Life at Leeds Part: 2. 3. 4.5. by Lockerroomboy82


Beckham/Keane

Captain, My Captain. Part: 2. 3. 4. 5. by belamuse


Beckham/Lineker

World Cup Perhaps Part: 2. 3. by Elizabeth


Beckham/Ljungberg

Beckham's After-Dinner Party by Crush


Beckham/Neville.G

Boys of Summer by Djinn

No Worries Part: 2. 3. by Djinn

What The Papers Say by
we_love_smudger

Some Kind of Phase by
we_love_smudger

Victims of Geography by
we_love_smudger

I Need You.. by
we_love_smudger

Daddy Kiss It Better. by
we_love_smudger

Love In Exile Part 1. 2. 3. 4. by
we_love_smudger Beckham/Neville (plus other parings) AU ::WIP:: ::NEW::

Stay With Me. by
we_love_smudger ::NEW::

Another Gary, Another David. by
we_love_smudger ::NEW::


Beckham/Owen (aka Bikey)

Always Overcome by
alecsandriac

Golf by
alecsandriac

Moving On by
alecsandriac

Moving back by
alecsandriac (Sequel to Moving On)

Got a Clue? by
alecsandriac

To Wear The Captain's Armband 2. 3. by
anotherusedpage

Losing Streak by by
anotherusedpage (sequel to To Wear The Captain's Armband)

Gramática Española, Coches Del Juguete by
anotherusedpage

Afterwards by
anotherusedpage

Enough by
anotherusedpage

Bikey angst! by
anotherusedpage

Run by
arisblue

The way of life by
arisblue (Sequel to Run)

Drabbles, for lovers by
arisblue

Fireflies and Rain by Djinn

For the Love by Djinn

Little Fingers, Little Feet by Djinn

No Worries Part: 2. 3. by Djinn

Vindication by Emerald

when you hear this by
evien

Mallorca 0, Real Madrid 1 by
jslayeruk ::NEW::

Apple Juice Eyes by
frio69

I Want To Bear Your Children by
kindaskimpy

An Affair of Some Importance by
lilreddevil24

When you fall in love by
madabouttheboy

Biting by
made_up

Twinkletoes by
made_up

When Nothing Else Matters by
one_side2002

Love Hurts Part: 2. 3. by
one_side2002

Trying too Hard by
peritas

Two ficlets by
redfireborn

Splashes water in his face by
redfireborn

You stare up at the stars by
redfireborn

Untitled phone call by
redfireborn and
rela

269 Words. Could be just about anything. Interpret away. Part 2. by
redfireborn

Imperfect by
redfireborn

You'll Be by
redfireborn

Pillars of Silence by
redfireborn

Loving That Way Part: 2. 3. by
redfireborn

All That You Can't Leave Behind by
redfireborn

Hurt before by
redfireborn

Shelter boy by
redfireborn

Blame it on the weather. by
redfireborn (Friends locked)

Break Me by
redfireborn (Friends locked)

Least You Can Do by
redfireborn (Friends locked)

Lonely Destination by
redfireborn WIP

100 words, Bikey drabble by
redfireborn

Lecciones Españolas by
redfireborn and
rwrockdj

Defined and Cursed by
tasheila

Prelude by
zarah5

Implied Beckham/Owen :

Untitled (Becks/Owen implied) by
amproof

Night Shift by
frio69

Remote by
redfireborn

Short Circuit by
redfireborn

Bikey Archives:

Silent Fortress


Beckham/Ruud Van Nistelrooy

Post-Game Ritual by
jenmstar ::NEW::


Beckham/Smith

Anytime Part: 2 3 by
we_love_smudger (Friends locked) ::New:: ::WIP::


Beckham/Solskjaer

Nowhere Fast by
amproof


Beckham/Totti

Morning after by
diemme


Beckham/Zidane (aka zizou/becks)

If it doesn't break you : Part 2. 3. 4. 5. 6. 7. 8. by
one_side2002

Alternative Univers (aka AU)

Love In Exile Part 1. 2. 3. 4. by
we_love_smudger Beckham/Neville (plus others) AU ::WIP::

Crossover

Elegantly wasted by
yehnica Crossover Beckham/Sean Bean ::NEW::

Multi-parings. ( aka slutfeast)

MEANBOYS Part 1. 2. 3. by
inspireddreams Raul/Mori/Guti/Becks/Mikey ::WIP::


Archives and Fan-sites.

Opengoal The only Footballer Archive out there that I know of.

Silent Fortress and
silent_fortress The Queen of Bikey
redfireborn's site and Writing journal. Will find the best Bikey pictures collection out there and some of the best football slash as well :)


footballslash The place to be. Beckham fics can be found here among other goodies :)

The Beautiful game.
Most of the stories posted on
footballslash can be found in this Archive


first_touch
chelseaurchin's writing journal. No Beckham slash as of yet but one can hope the day will come :)

Austinfan's Beckham stories. unfortunately because of this sites layout it hard to read the stories.

Nifty Archive a archive for gay stories. You can find Beckham slash under the celebrity section. Here are a few I found.

'England-squad' by The Alchemist

'Beckham and Cole' by Hard Tales

'Beckhams threeway' by Hard Tales